Zandiyeh hotel, Shiraz
The Modern Zandiyeh Hotel being an Iranian Original Persian Hotel has been constructed at the heart of Shiraz City and in the vicinity of the historical and most invaluable complex of Zandiyeh – namely of Zand Dynasty – who chose Shiraz City their Capital about two hundred years ago. Built with a unique appearance and deeply inspired by Shiraz historical architecture, the hotel presents an eye-catching and most relaxing atmosphere for the guests. Beside, the sky towering brick-made citadel, the marvelous Zand Royal Palace(Now the museum),the gorgeous mosque with its glittering azure blue minarets and the magnificent roofed Vakil Bazar extending from North to the South of the city are all just within your sight.
---
Chamran Grand hotel, Shiraz
The tallest hotel in Iran's capital of culture and history, located in the beautiful district of Ghasordasht, with a breathtaking view of the city of Shiraz and the heavenly gardens in the vicinity, Chamran Grand Hotel has utilized the knowledge and the experience of the experts in hoteliering and hospitality industry and has taken all the international standards for service quality into account, promising  a memorable stay in the heart of tranquility and serenity.
---
Shiraz Grand Hotel, Shiraz
Shiraz Hotel is a five star hotel which is located in the city of Shiraz, the birthplace of Persian culture and art. This hotel, with 40000 m² area in 14 floors, is situated in neighborhood of the holy Quran gate and it is close to touristic places in Shiraz.
The hotel welcomes the guests with luxurious rooms, several restaurants and coffee shops, laundry services, travel agency, conference rooms and ball room, sport complex and game net.
---
Pars International Hotel, Shiraz
Five-star Shiraz Pars Hotel located in the central district of Shiraz is consisted of two buildings and 13 floors that two floors of restaurant and lobby are connected to each other. This beautiful restaurant of the hotel on the 13th floor named Lotus Restaurant has a unique city-facing landscape.One of the most luxurious hotels in south of Iran, with well-trained and experienced staff is located on the most important street of the city, Karimkhan Blvd. The hotel is consisting of two towers with 194 rooms, suites and apartments with the most modern & latest facilities for a pleasurable stay and is just 20 minutes away from the international airport.
---
Setaregan Hotel, Shiraz
Shiraz Setaregan Hotel which is located in the northern part of the city with a beautiful view of the city during daytime or at night, welcomes the guests who want to relax in a calm atmosphere far from tensions of the city.
One of the advantages of this Hotel, is being located in an area which is near to the gardens and historical monuments parts of The city.
We also do offer tours of persopolis ,botanical garden , old and new part of the city of shiraz and historical monuments.
Other facilities of the hotel, include Sauna, Jacuzzi, Laundry, Coffee shop, Taxi service, Traditional and modern restaurant and equipped saloons with heating and cooling systems for different seasons and free high speed internet service (wireless) and …
Setaregan hotel with its suitable facilities and special saloons is ready to host your family celebrations, seminars, anniversaries and cultural gatherings.
---
KarimKhan Hotel, Shiraz
You will experience a nice travel in the Karimkhan hotel with a traditional and simultaneously very luxury and modern stays. The traditional karimkhan hotel has 51 various rooms that is affected by Iranian architecture that makes you feel relaxed and have a comfortable stay. Single, double rooms and suites of hotels are so perfect for your long-term stay in beautiful city of Shiraz.
The room interior services : refrigerator,Television (Tv set), Telephone, rooms' heating and cooling system,The central system of antenna, wifi, safety-deposit box, electronic card system of doors, minibar, bathroom and Extra services.
The traditional tea house of karimkhan hotel is a place with an Iranian design that will host you with traditional tea, herbal tea, ice cream and faloodeh (or paloode : an Iranian cold dessert) and make your stay more enjoyable. Also you will enjoy  traditional music and use wi-fi.
---
Espinas Palace Hotel, Tehran *****
224 tastefully decorated guest rooms including luxurious suites.Modern room facilities such as Wi- Fi high speed internet and LCD TVs with satellites access.State of the art air conditioning and ventilation systems.Glamorous halls for all types of events, gathering and conventions.Continental Breakfast Buffet and International cuisine Presented by any of our three restaurants offering the best service in food and drink.Complete and modern '' Fitness Center''Relaxing and friendly lobby area with Coffee Shop& Piano lounge.The best and largest private parking facility totally eliminates parking issues for guests and all who use Espinas Hotel services.Espinas Hotel is a grand family residence situated right in the heart of Tehran capital city center. The superb location of the hotel surrounded by Tehran most spectacular attractions and its accessibility to public transportation terminals, makes it perfect not only for a day tour visiting our cultural heritage such as Carpet , Glass , Golestan Palace, Ostad Saba Museum, and Big Bazar, but a very top choice to stay in Tehran for both business and pleasure, a hotel by a growing collection of distinguished properties around Iran.
Considering the importance of Tourism Industry and Iranians hospitality well-known throughout the world, rooted in Iranian culture for centuries, has encouraged the owners of the hotel to expand their business by increasing the number of Espinas Hotel branches.
To address your curiosity, it's worth mentioning that The Espinas name was proudly born from the highest mountain in the geographical area of Astara City-Gilan province and means settling down in highland area.
What we have rendered to our guests so far and how we are trying to better our services has all been for creating a peaceful and comfortable atmosphere for our guests. Nevertheless, we have been awarded the following prizes and credentials from respective authorities.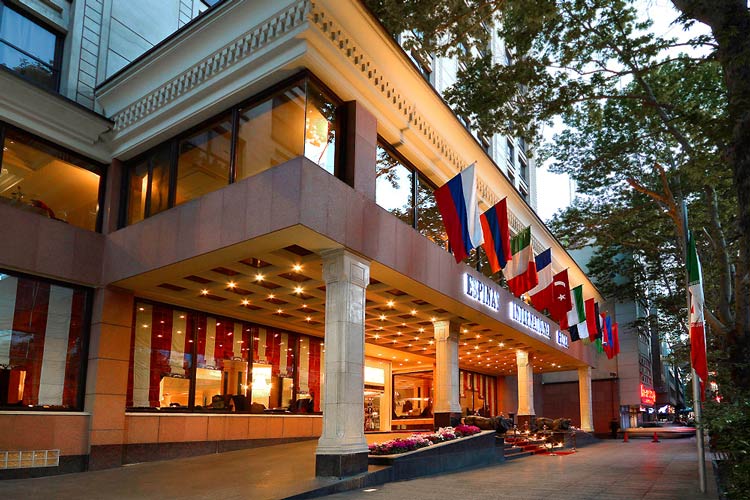 Azadi Hotel, Tehran ****
Tehran Azadi Grand Hotel is one of the best 5 star hotel in the whole Iran, recently restore during the Tehran International Exhibition, the hotel is a place for both tourists who want to enjoy the beauties of the city and business men, in fact, the hotel houses a number of conferences and congresses, and political and governmental gatherings of various kinds.
The hotel offers a staff of experts and professionals who provide great service and high level in guests treatment. on 24 floors, fully air conditioned and equipped with every comfort and service, the hotel offers a staff of experts and professionals who provide great service and treatment of guests.
Facilities include a bar and 3 restaurants serving the most delicious dishes of Iranian and international cuisine, internet cafe with satellite connection wi fi, spa with pool, sauna, tennis court, gym, Jacuzzi.
Esteghlal Hotel, Tehran *****
Standing majestically at the old beautiful alborz mountain range offers you the fine art of iranian traditional hospitality in the international level.
It boasts of a traditional admirble service, with carefully blended luxurious appointments to imperess the international businessmen and vips.Esteghlal Hotel (Ex-Hilton) is the greatest 5 star international hotel in Iran with the area of 70000 square meters. The West Tower established with 259 rooms in 1962 and the East Tower was inaugurated with 291 rooms in 1972.
Due to holding the 8th session of the Islamic Summit Conference in Tehran, East Tower was renovated in 1997 and the South Tower is under construction for the development programs.
Homa Hotel, Tehran *****
Five-star Tehran Homa hotel located at the heart of Tehran and Valiasr St. having easy and fast access to the main trade and official centers is a splendid tower hosting guests and travelers with its complete accommodation facilities.
The design and arrangement of Tehran Homa Hotel are conducted through the most modern and beautiful furniture adopted from the most precious art works making the best accommodation space for you and your ceremonies and conferences.
Evin Hotel, Tehran ****
The Evin Hotel in Tehran, Iran, is about a five-minute ride from the International Trade Fair in Shemiran. This 4-star hotel is also easily accessible from other popular destinations in Tehran, including the city's commercial center and airport. The Evin Hotel houses rooms and two suites, plus great facilities and services like an outdoor pool, a tea house, a tennis court, and a gym. The hotel also has an on-site shopping center.
Book now
Enghelab Hotel, Tehran ****
The Enghelab Parsian Hotel in Tehran is a luxury 4 star hotel located in an area full of attractions and shops.
The hotel rises on 16 fully air-conditioned floors; on the top floor you will find Syriana, the first "Revolving Restaurant" in Iran, which offers a spectacular panoramic view of the Alborz mountain range. For guests relax moments also a coffee shop where you can enjoy happy hour with shisha and Arabic music, spa with sauna and jacuzzi, outdoor swimmingpool (access allowed only to men ), barber shop and shopping center. In hotel you can also find meeting rooms that can accommodate up to 1000 people and audio / video equipment needed, wi-fi and parking.
At the reception you can ask for standard services such as luggage storage, laundry and ironing , doctor on call and taxi service.
Shahr Hotel, Tehran***
The SHAHR HOTEL has been built by Tehran municipality in 1372 at the main entrance of the east of Tehran with a traditional Architecture in an 10,000 m2 ground.SHAHR HOTEL is equipped by 110 rooms with traditional, modern & classic decorations. Each has 24 – hours room service, boundary and pool. All of the rooms have lavatory and some have Iranian lavatories. The VIP rooms are also equipped to give special services to your special guests.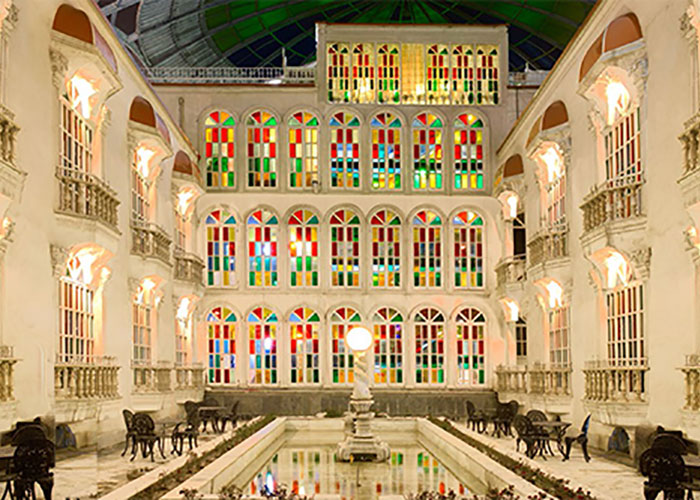 Ferdowsi Hotel, Tehran ****
With 22000 square meters of floor space Ferdowsi Grand Hotel was first opened. Renovations and improvements have brought pleasant and modern changes yet we have also the touch of Persian heritage as well. This hotel has suites, and royal suites and restaurants. We offer traditional and modern Iranian cuisine and well as international cuisine and a buffet.
There are several dinning and modern conference halls as well as swimming pool, jacuzzi, and sauna and other recreational and sporting facilities plus fast, wireless with Wi-Fi technology for connecting to the internet. And finally with plenty of parking in out multi level parking facility we have secured our ranking amongst the highest in the country.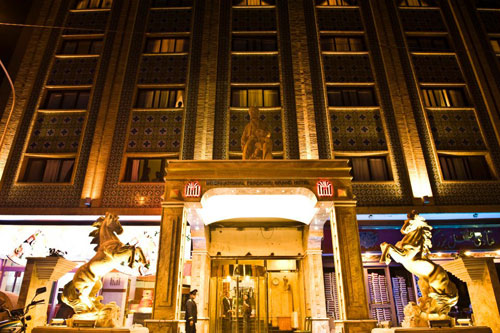 Abbasi Hotel, Isfahan *****
Glorious Architecture of Iran has always shone as bright gem in the world of architecture and has been a long time.The School of Architecture has been at the forefront in terms of the way the name is glorious and famous in Iranian art and culture around the world.During the Safavi Isfahan will benefit from so-called glory of the worlds half.Among the surviving works of Safavid architecture has remained on the school and the market and caravanserai set in the side that shines like a gem unique Chahar Bagh Street.It was built on the orders of Shah Soltan Hossein Safavi and offered it to his mother.The Abbasi Hotel (formerly known as the Shah Abbas Hotel) is a hotel located in Isfahan, Iran. This complex was built at the time of king Sultan Husayn of Safavid about 300 years ago. It was built as a caravansary to provide lodging for passengers. The structure has been recovered since the 1950s to fight and prevent degradation.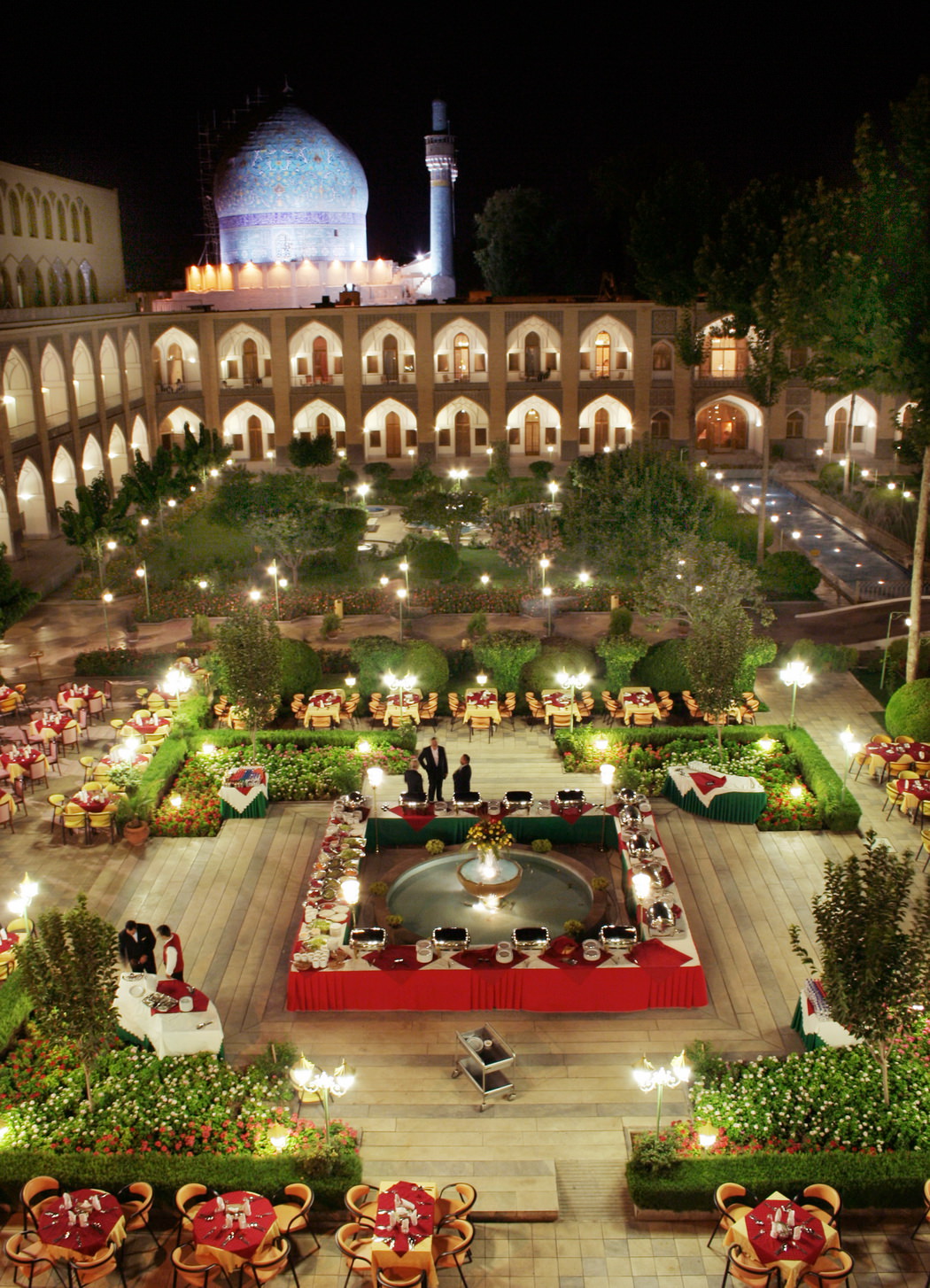 Kowsar Hotel, Isfahan *****
Five-star Isfahan Kowsar Hotel is located on the beautiful edge of ever living river of Zayandeh Rood near the historic bridge of Siosepol. This hotel was opened with 130 rooms as Sherayton Hotel in 1972 and after one year, it was renamed as Korosh Hotel. After Islamic Revolution, Korosh hotel was renamed as Ghods Hotel and after one year, it was renamed Isfahan Kowsar Hotel until now.
International Parsian Kowsar Hotel was reconstructed in 2004 to develop its qualitative and quantitative services. 40 rooms were added to it. Now it has 170 luxurious rooms and suits.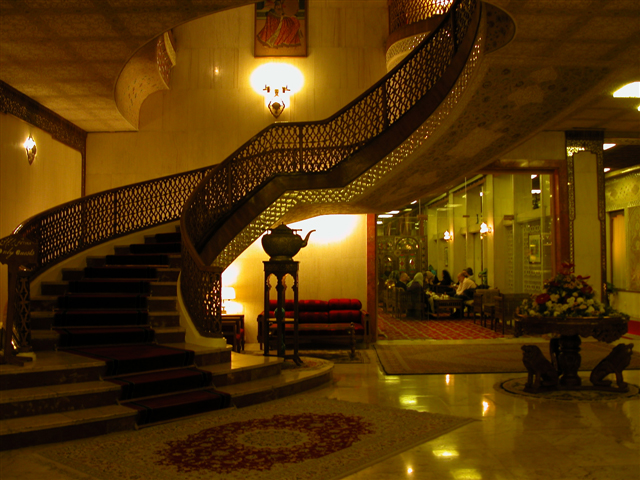 Piroozi Hotel, Isfahan ****
Isfahan Piroozi Hotel, one of the best four-star hotels of Isfahan formerly was known as Daryush, with 96 rooms is located in the city center of Isfahan close to the interesting touristic places such as Chehelstone Garden and Edifice, Naqsh-e Jahan, Imam Mosque, Alighapoo, Hasht Behesht Garden and Edifice and so on.
The rooms of this hotel include two-bed and three-bed as well as different suits with complete facilities.
Safavi Hotel, Isfahan ***
This well-run midrange option is in a fantastic location between Naqsh-e Jahan (Imam) Sq and the Zayandeh River. Rooms are comfortable, with satellite TV and good-sized bathrooms, and the hotel is set back from Felestin St, minimising noise. The rooftop teahouse is a wonderful place to relax in summer. Wi-fi costs US$2.30 per hour.
Safaeiyeh Hotel, Yazd *****
A five-star hotel in one of the nice climate of Yazd districts with easy access to the city center and the interesting places of Yazd named Yazd Safaieh Hotel is ready to receive the travelers and tourists of Yazd with its modern facilities. Yazd Parsian Safaieh Hotel is consisted of two parts namely New Hotel and Garden Hotel. Safaieh Garden Hotel has many years of experience in receiving guests and it can be named the best hotel of Yazd.
The traditional architecture of Safaieh Hotel along with its modern facilities promises pleasant accommodation for you.
Dad hotel, Yazd *****
Dad hotel dates back to nearly a century ago as the legacy of an ambitious man, Haj Abdolkhalegh Dad who created this site in 1928. The site used to be an inn and transportation establishment for nearly 80 years and was fully renovated in 2007 with the effort of his son, Haj Mohammad Hassan Dad and his children and grandchildren to become an international 4 star hotel.
Malek ol Tojjar Antique Hotel, Yazd
This hotel is an ancient mansion once belonged to a guy named Haj Ali Askarshirazi, one of the well known business men whose title "malek al tojjar" was bestowed by Naser al din shah,a king of the Qajar dynasty, due to his trustworthy. His descendants of four generations lived in this house.
A narrow alley enjoying high walls is the entrance. Various rooms of the building have unique characteristics each adorned with paintings on the walls and ceilings by prominent painters from shiraz. The creation of these works lasted some ten years and go together quite well with the paintings of the orangery building in that city.
The beautiful porch,hexagonal vestibule ,winter and summer chambers,terrace,amazing wooden pillars,the eye catching courtyard,the lofty wind catcher,the big pool,the basement corridors connecting different parts and the mirror room have considerably added to the beauty of the building.
Malek-o-Tojjar as the first mud brick hotel world wide,was inaugurated in 1997 and became complete with 23 rooms and 77 beds. Its unique characteristics have changed it into a residential utopia for those who seek comfort and peace. The central courtyard and the base mentare are used as traditional restaurants serving local and international recipes besides a coffee shop.
Fahadan Museum- Hotel, Yazd****
This hotel is situated in an old mansion known as "Tehraniha house", which belongs to Qajar era.The Tehrani family, carpet traders, lived in this house some 250 years ago.
The beauty and the magnificence of the building caused it to be used as the economic consul office of some European countries such as France and Germany in the past.
Recently the building has been nominated on the list of the national legacies.
This mansion includes three courtyards including the main yard,orangery and the pavilion,three attractive wind catchers,a lofty traditional hall,well chamber,basement,vestibule and a roof overlooking the historical quarter.
Honoured of running the first national museum hotel and benefiting from 30 rooms and 80 beds,we welcome the national and international guests all year long.available antiques on view are of the unique features of this place.the central courtyard and the orangery are the coffee shop and the the restaurant.
Moshir-al mamalek Garden Hotel, Yazd****
Set in a beautiful landscaped Persian garden with water features the traditional Moshir Al Mamalek Garden Hotel is traditionally styled with vaulted and domed ceilings, murals and tile work. The modern rooms are stylishly designed, clean and come with televisions and fridges.
The hotel is located on one of the main streets in Yazd and is close to the main tourist attractions and sites. The two resident Macaws who reside in the courtyard add to the hotels charm.
Valy Hotel, Yazd ***
This hotel is the only hotel in Yazd which dates back to Safavid dynasty built over 400 years ago. Interior and exterior plaster, porch with extraordinary beautiful Karbndy, orangery and a basement with running water that recovery   fifty meters display. Reflecting the five-door and three-door pool of water in the large courtyard of the high symmetry of the hall is very eye-catching. Located between collection of Amir Chaghmagh mosque and opposite the main market of town, this hotel makes it easy access to the old texture of the town. Being decorated   with traditional texture and Iranian local food, the traditional restaurant and coffee shop revive memories of old times. The roof and long Badger of this series show you a beautiful view of old Yazd.

Adibolmamalek Hotel, Yazd **
Adibolmamalek Traditional Hotel with more than 200 years antiquity, belonging to the Qajar period as a precious gem, born of the desert located in historical context of Yazd. This complex is contained Panj Dari (Shah Neshin) se Dari, Do Dari and a glorious hall with 2th floor's rooms that makes a nice concurrent complex, traditional both is one of the lovable exploits and unique of this complex, also the basement (Sardab), a place that has current water of aqueduct with so variation warmth, a location that you could find in aristocracy house for summer restroom and for saving of food materials.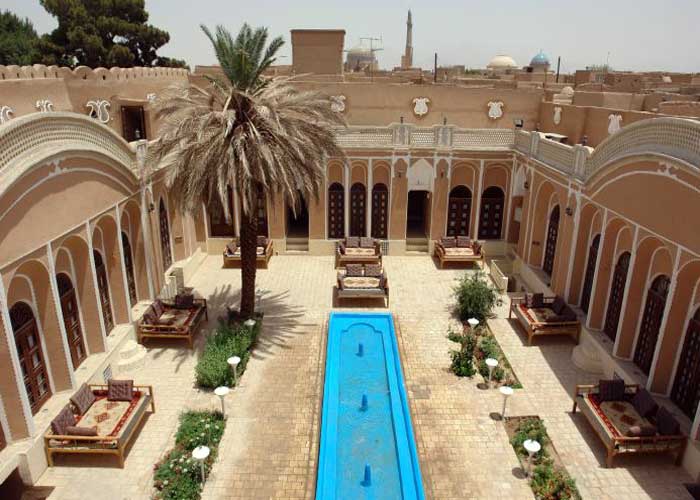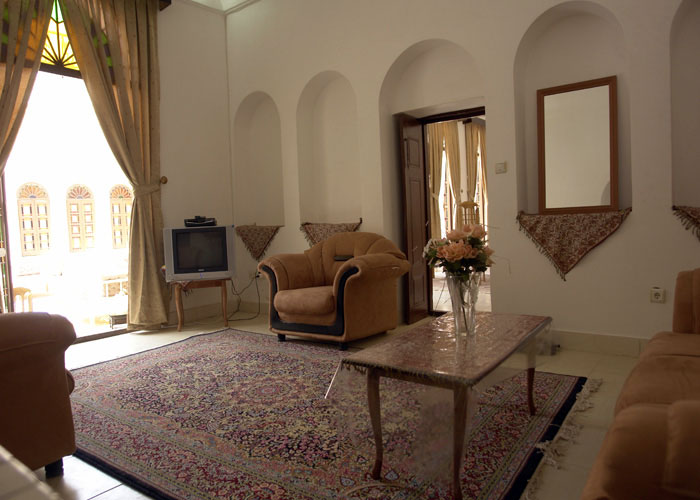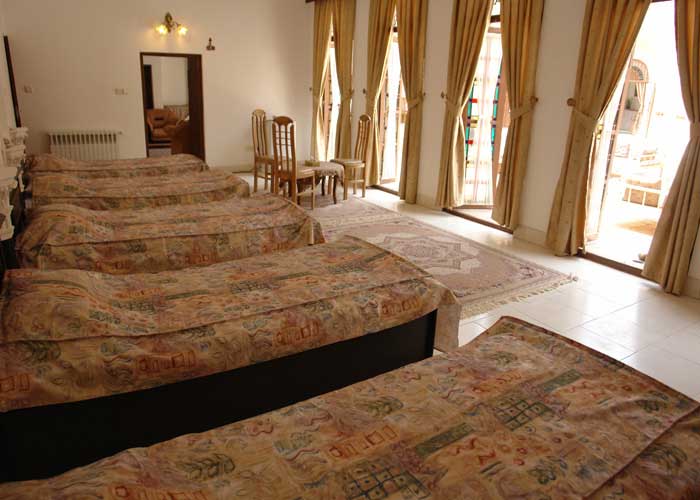 Toranj Hotel, Kish *****
The Toranj Marine Hotel is located in the northwest of Kish Island (Persian Gulf, Iran). The complex comprises of two segments, namely water villas (operational) and onshore hotel (under construction).
The water villas are linked via a wooden jetty and designed in the form of Paisley, an Iranian national symbol. The water villas have a dedicated private balcony and include 100 suites of 40 m2 (classic suites), 60 m2 (royal suites), and 120 m2 (Imperial suites) with the capacity of 2, 4 and 6 persons, respectively. Through a glass floor, each suite has a direct seafloor view.
The Toranj Marine Hotel offers you an exceptional experience of being close to nature and water. It lifts up the spirit; it gives you a sense of indescribable calmness and peace.
The unique and special geographical location of Toranj Marine Hotel offers scenery with extraordinary beauty, including sunrise and sunset, tremendous view of the sea, waves, coral, green spaces, beach, etc. To attract migrating birds and the preservation of natural ecosystems, two artificial islands are constructed.
Major research across the Kish Island was carried out to select the best location for the Toranj Marine Hotel. The northwest coast of the island was selected due to sea uniformity in the depth of 1000 meters. Such depth introduces a natural barrier against storm and intense sea waves.
Considering the uniqueness of water villa's construction, specific care is paid to the preservation of marine natural beauty and ecosystem. The design and construction philosophy of the hotel have been based on environmental friendliness and minimal damage to the ecosystem. We trust that our honorable quests would also respect our design rules and behave accordingly.

Dariush Hotel, Kish ****
Dariush Grand Hotel was built as a look like Persepolis, a symbol of the glory and splendor of the ancient Persian (Iranian) civilization and the Persian Empire. The hotel was designed and developed by Iranian entrepreneur Hossein Sabet, who also owns and manages several tourist attractions and hotels in the Canary Islands. The hotel was completed in 2003 and is owned by a number of companies.
Mahinestan Raheb Hotel, Kashan
Shah yelani Home stands in center of darb- bagh in kashan and is related to Ghajar- Pahlavi Period the traditional Home, was registered as a National Monuments of iran on mordad 19, 1384 with the registration number 0f 12970. Shah yelani Home in the ghabrestane darb-bagh is one of the traditional homes in kashan wich has two seprated yards, inside door and outside door. Whole house consists of two floors in tree side around the yard. most important architect parts are two cellars, shah neshin, Antechamber, winter balcony , summer balcony and a windward. most designs of the house are painting on the tore of the summer balcony.